Problem
When signing into GoToConnect on your iPhone or Android, you see the following error: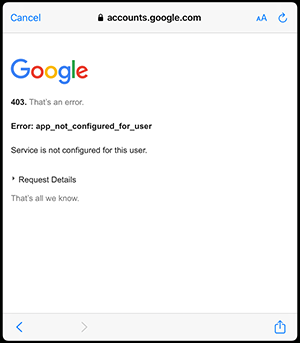 Description
The GoToConnect app uses your phone's web browser during the log in process and your browser has a personal Google account connected. The personal Google account is not configured for GoToConnect and the error is displayed "app_not_configured_for_user". You will need to add your district Google account to the phone's web browser. Follow the Fix instructions below.
Fix
1. Open your phone's web browser; Safari, Chrome, or Firefox and go to https://myaccount.google.com.
2. Click on your account avatar.
3. Click on Add another account.
4. Sign in with your district Google account username@centralusd.k12.ca.us