1. Using a web browser (e.g. Chrome) visit the website www.google.com.
2. Click on the Sign In button.

3. In the Email field type in your full district email address. [username]@centralusd.k12.ca.us. Click on Next.
IMPORTANT NOTE: In order to sign in to Google you must use your @centralusd.k12.ca.us email address. Once signed in you will send and receive emails as @centralunified.org.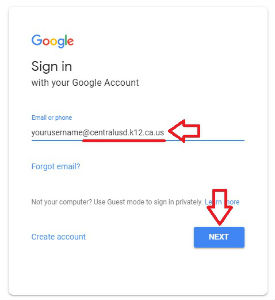 4. Type in your Password and click on Next.
5. After you sign in click on the Apps Menu(Waffle icon) to access Google G Suite apps.